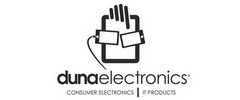 Sales Representative
Duna Electronics, s.r.o.
Place of work
Komárno, Slovakia (Job with occasional home office)
Wage (gross)
1 240 EUR/month
depending on the spoken languages, on the personal interview, we can offer as a starting salary 900-1000 EUR (net salary)
Information about the position
Job description, responsibilities and duties
• present, promote and sell products using solid arguments to existing and prospective customers, giving sales presentations to a range of prospective clients,
• establish, develop and maintain positive business and customer relationships, actively attract new clients,
• local and international sales activities, communication by telephone and email, answering client questions about payment terms, products, prices and availability,
• keep abreast of best practices and promotional trends,
• meeting or exceeding sales goals,
• carries out the responsibility for order entry, goods availability and return order entry,
• develop sales processes and processes relating to online order administration.
Employee perks, benefits
• a challenging role in an international orientated organization
• modern working environment
• notebook
• mobile phone
• meal assistance
• depending on the performance after the training on the job (or from the 7th month of the employment) 1-2 days / week home office is possible
• depending on the spoken languages, on the personal interview, we can offer as a starting salary 900-1000 EUR (net salary)
• After 3 months (after the trial period) 25% quarterly bonus available in case of successful completion of the plan
Information about the selection process
May this advertisement speak to you, send us your English/Hungarian CV with a photo with a link to your LinkedIN profile.
Expected date of completion of the selection process
3 April 2023
(there are still 12 more days)
Requirements for the employee
Candidates with education suit the position
Secondary with school-leaving examination
Follow-up/Higher Professional Education
University education (Bachelor's degree)
University education (Master's degree)
Educational Specialization
Technical or business degree is an advantage.
Language skills
English - Advanced (C1) or Hungarian - Advanced (C1) or German - Advanced (C1)
Other knowledge
Business correspondence - Advanced
Microsoft Excel - Advanced
Microsoft Outlook - Advanced
Microsoft Word - Advanced
Microsoft Windows - Advanced
Experience in the position/sector
Knowledge of brands which are distributed by Duna Electronics is an advantage.
Personality requirements and skills
• a team player with sense of responsibility,
• excellent communication and organisation skills,
• able to set priorities and solve problems efficiently,
• competent to work independently, proactivity,
• able to provide precise and accurate work also under time pressure,
• experience in international sales is an advantage,
• understanding of the sales process and dynamics,
• We are looking for a candidate with Hungarian-English or Hungarian-German or Hungarian-German-English language skills.
• any other language skill can be an advantage (at least C1 or C2 language skills is required) ,
• experience in B2B sales, Xiaomi, Samsung, Apple, Jabra, JBL, Baseus or other mobile phone accessory brand is an advantage,
• we are looking for job seekers from or living around Komárno
• knowledge of CRM system: SAP Business One preferred.
Advertiser
Brief description of the company
Duna Electronics, s.r.o. is one of the leading European wholesaler/distributor of brand new, original, sim free, never locked, European specific smartphones, tablets, accessories, audios, projectors, wearables, smart tools, cameras, drones, data storages, consumer electronics and IT devices.

Our customer base are the biggest retail chain stores, offline and online retailers (B2C stores and webshops), institutions, public procurements, end user companies, service providers, projects and operators. We are working with more than 5 000 customers in EEA zone.

Why Duna Electronics
From our warehouse in the centre of Europe we can provide even next day worldwide deliveries. We have a close relationship with most of the major manufacturers and distributors and therefore we are in the position to provide wide range of products on competitive prices to our customers. Over the years our company became well known through its exceptional service, reliability and continuous up-to-date availability of products."
Number of employees
25-49 employees
Contact