German-speaking Customer Service Representative(s) for a Popular Video Streaming Service
We are sorry, the company offering the job position has finished posting the job on the site.
Thank you for understanding.
Display similar jobs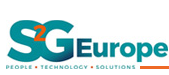 We are building the happiest workplace
With 7 contact centers in US, Canada and Latin America, S2G / Support Services Group is currently hiring 250

English and

German,

French,

Italian or

Spanish-speaking Customer Service Professionals in its newly opened office in Budapest.
We are looking for
German-speaking Customer Service Representative(s) for a Popular Video Streaming Service
Key Job Responsibilities
Deliver an outstanding customer service experience
Utilize multiple systems while speaking with customers
Comply with all operational policies and procedures
High degree of accuracy with all work and exceptional attention to detail
Job Duties
Answer incoming customer inquiries
Collaborate with management teams to stay updated on new products, services, and policies
Record customer information within our customer service database
Engage with clients in a friendly and professional manner while actively listening to their concerns
Offer support and solutions to customers in accordance with the company's customer service policies
Job Requirements
Excellent verbal communication skills
C1 level (advanced) German speaking skills plus B2 level (intermediate) in English
Ability to multi-task
Secondary School or GED Diploma required
Ability to pass criminal background check
Experience in Customer Service is an advantage
For foreign nationals possession of Residence permit or Student visa is an advantage
Why join us
Fun & enjoyable workplace
We simply expect our team members to be present for work, follow their schedule, strive to provide world-class service on every call, & have fun!
EDUCATION & GROWTH
We've developed a culture that provides education, support, growth opportunities & empowerment. We expect positive, respectful attitudes from everyone.
HEALTHY OFFICE
Our Budapest office is located at Róbert Károly krt. with natural daylight and healthy office air. There're good buffets nearby as well as fitness facilities.
SALARY & COMPENSATION
We offer outstanding salary and value your language skills. Multi-language talents get language allowance. Targets & bonuses are transparent.
If you are looking for a long term job, want to work at the happiest workplace supporting an amazing product of one of the world's most well-known brands, don't hesitate to send your resume to [email protected] or apply through the below button. It only takes 1 minute.
The first 100 recruits will be members of the Core Team, so it's worth applying today. Our recruiting team looks forward to speaking with you.
Send CV to the company